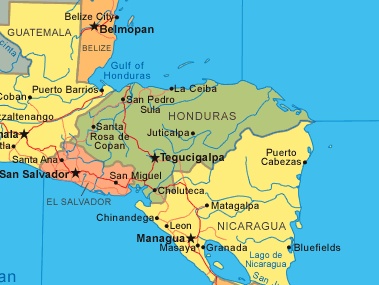 A constitutional crisis is underway in Honduras, but not for the reasons that the media – and the Obama administration, for that matter – would have you believe.
As I have written previously, former president Manuel Zelaya was removed from power in June after a series of moves on his part that violated the Honduran constitution. Completely in accordance with said constitution, the Honduran military, on the orders of the Honduran Supreme Court and with the endorsement of the Honduran Attorney General, arrested Zelaya.
The military exceeded its authority by exiling Zelaya rather than simply taking him into custody, but as far as I can tell, that is the only misstep in the entire drama.
Despite these facts, the Obama administration and the majority of the world's media have had the audacity to refer to this as a coup.
Now the deposed Zelaya has been smuggled back into the country and is holed up in the Brazilian embassy. The Obama administration, which to date has struggled to find a left-wing regime it couldn't find common cause with, has pledged its support to Brazil.
An AFP report from today follows the tired old script [emphasis added]:
The United States pledged Tuesday to do whatever it can to help Brazil's embassy in Honduras, which was surrounded by soldiers and had its lights, water and phone lines cut off after deposed President Manuel Zelaya took refuge there.

"Our embassy in Tegucigalpa is in contact with their counterparts in the Brazilian embassy in Tegucigalpa and we're discussing what kind of assistance that we can provide to help them during this crisis," said State Department spokesman Ian Kelly.

[…] Honduran soldiers earlier dispersed thousands of protesters who had camped out overnight outside the embassy to protect the man they see as the country's rightful leader, but who was deposed in a military-backed coup in June.
The Honduran government is understandably angry that Brazil would give aid and comfort to a man who through his actions is an avowed enemy of the country's constitution.
It is to America's shame that our government continues to pretend otherwise.
9/24 UPDATE: Unsurprisingly, Spain's leftist president Jose Zapatero has joined in the charade (with Reuters' hearty concurrence):
Democracy must be restored in Honduras and a political crisis caused by the overthrow of President Manuel Zelaya must end, Spain's prime minister said at the U.N. General Assembly on Thursday.

"We won't accept the coup," Prime Minister Jose Luis Rodriguez Zapatero told world leaders.

Zelaya was ousted in a June coup in the worst political crisis in Central America in decades.