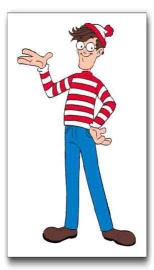 Does David H. Comins actually exist?
The "
Thought For The Day
" Listserv had this quote today:
People will accept your ideas much more readily if you tell them Benjamin Franklin said it first.
-- David H. Comins
I loved the quote, and wanted to pass it along to my friends, but I was curious about the author, because I had never heard of him.
I'm usually pretty good at digging information out of Google, but so far I've come up empty. Searching on his name, I found countless sites that reproduce this quote, but have no information about who Comins is.
So… Is Comins a one-hit wonder, famous precisely for saying the above quote, but otherwise obscure? That's not very easy to pull off, it seems to me.
I did find a
Facebook page
for a David Comins, but I'd have to get on his Friends list to see any detailed information on him. There's a David Comins on
LinkedIn
, but how would an Information Manager at TimeWarner become famous for a quote on Benjamin Franklin?
C'mon, somebody do my homework for me and point me to a site that tells me who Comins is.
There is a lesson in all of this. How often to we uncritically pass on things we find on the Internet or receive in our email? Do any of the people who posted the Comins quote on their websites know
anything
about Comins, assuming he exists? I'm willing to bet they don't.
You're welcome to prove me wrong.

11 July 2011 UPDATE:
The hunt for David H. Comins still rages on, given the number of visits to this post through search engines. I decided to have another look to see if anything else had turned up on him. I think we've got him! It seems that the possibility that I dismissed above as the least likely has ended up being the reality about our mystery man.
All of those sites referring to him as an author may want to reconsider that description, given that pretty much the only thing he ever got published was... that quote. It was a
reader submission for a magazine article
. In real life, it looks like he was a
real estate broker in Manchester, Connecticut
for quite a while, but he's well past retirement now. I wouldn't be surprised if he's spending his golden years marveling about how famous—yet obscure—he is.
18 December 2015 UPDATE:
The links in the previous update no longer work, so I thought I'd update my search. A recent book called
The Official Rules
has this entry for "Comins's Law":
Harper's Weekly
). He may still be there,
if Pipl's data is accurate
.
Conclusion, reiterated: David H. Comins is famous for this quotation, and nothing else. If it weren't for his submission to
Harper's
, he wouldn't exist at all, as far as the internet is concerned.