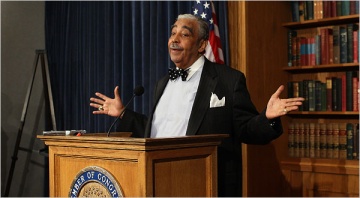 I know that Rep. Carter is doing this with tongue in cheek, but I think this is a far more effective way to highlight hypocrisy in Congress than simply issuing press releases would be.
Fox News,
January 28
:
Americans may be able to rest a little easier this April if Congressman John Carter, R-Texas gets his way.

Rep. Carter introduced a bill Wednesday to eliminate all IRS penalties and interest for paying taxes past due.

The legislation calls for the creation of what he calls the, "Rangel Rule," -- drawing attention to the recent legal issues of House Ways and Means Committee Chairman Charlie Rangel, D-N.Y., enabling citizens who fail to pay taxes on time to do so later with no additional fees.

Rangel, who writes the country's tax policies, acknowledged last fall that he failed to pay thousands in real estate taxes for rental income he earned from a property in the Dominican Republic.

As of September 2008 the Harlem Democrat reportedly paid back more than $10,000 in taxes but that did not include any IRS penalties.

"Your citizens back home should have the same rights and benefits that come to you as a member of congress. You shouldn't be treated any differently under the law than your citizens back home," Carter said.

He added that citizens should receive the "same courtesy" that the IRS is allegedly granting Rangel and Treasury Secretary Tim Geithner, who also recently acknowledged a failure to pay taxes.
(Photo credit: NYT, 9/10/2008)