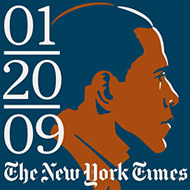 New York Magazine's
Gabriel Sherman reports
that attendees at the New York Times' inauguration party Tuesday night were instructed to wear a pin bearing the image shown here.
The Times attempted to rationalize the celebration. It surely seems to be splitting hairs to wave off all objections by saying, "Hey, this was organized by the marketing department, not the newsroom."
Sherman comes up with a few rationalizations of his own, including the suggestion that the Times is celebrating because Obama will be good for the economy, and a good economy will be better for the Times' circulation numbers. See? It's nothing political. Obama's just good for business.
No.
The public will look at this image and see in it a confirmation of what they've always known to be true about the Times. Their man is in office now, and it's time to celebrate.
Via: Power Line