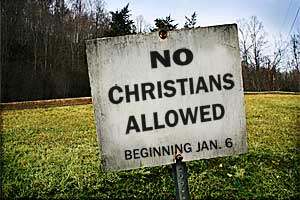 At least one town council in England appears to think so, as The Telegraph
reported February 8
. After removing the young woman from foster care, they even tried to persuade her to convert back to her former religion:
A foster mother with 10 years' experience was struck off after a Muslim girl in her care converted to Christianity, it has emerged.
The woman has been banned by her local council for failing to prevent the teenager from getting baptised, even though the girl was 16 and made up her own mind to change religion.
The carer, a churchgoer in her 50s who has fostered more than 80 children, has now been forced to move out of her home.
She has lost the farmhouse she rented to look after vulnerable teenagers, due to the loss of income.
[...]
The foster mother, who cannot be named for legal reasons, insists that she did not pressurise the teenager to convert, and actually tried to discourage her initial interest.
The girl, who is now 17, was taken into care after being assaulted by a family member, saw baptism "as a washing away of the horrible things she had been through and a symbol of a new start," the woman said.
"I offered her alternatives. I offered to find her places to practise her own religion.
"I offered to take her to friends or family. But she said to me from the word go: 'I am interested and I want to come [to church]'."
The carer claims that social services were aware that the girl was attending her evangelical church, and council bosses only objected when she they found out she had been baptised.
[...]
Officials advised the teenager to reconsider her decision and stop attending Christian meetings, and in November struck the carer off their register, claiming she breached her duty of care as a foster parent.
"They consider that in some way she should have taken steps to prevent the conversion," said solicitor Nigel Priestley, who is representing the carer.
He is demanding a judicial review into the council's decision, claiming they have breached Article 9 of the Human Rights Act, which guarantees freedom of religion for both the carer and the girl.
He said that the teenager, who is now back with her parents, was "distressed" that her private faith had had such repercussions, and is supporting her former carer's legal bid.
It is clear that the teen does not regret her decision to convert, but no matter.
Remember: it's not discrimination unless it happens to a politically-favored victim group. Britain's government, bending over backward to show how tolerant it is, takes just about every opportunity it can to atone for the centuries of Christianity's dominance there. It's just not
fair
that Christianity should continue to dominate -- so the government aims to do all it can to help level the playing field.
(Image stolen from
Searching for Liberty
)