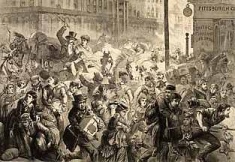 ...or else Joe "Loose Cannon" Biden is being an unbelievably irresponsible panicmonger. He may genuinely feel that an overabundance of caution is necessary, but when the Vice President of the United States speaks like this in a public setting, people are going to be alarmed.
NBC New York this morning
:
Vice president Joe Biden said today he would tell his family members not to use subways in the U.S. and implied schools should be shuttered as the swine flu outbreak spread to 11 states and forced school closures amid confirmation of the first U.S. death.

"I wouldn't go anywhere in confined places now," Biden said when asked whether he would advise family members to use public transportation.

Biden made his comments during a brief interview on NBC's "Today" show during an interview with Matt Lauer.

"I would tell members of my family, and I have, I wouldn't go anywhere in confined places now. It's not that it's going to Mexico, it's you're in a confined aircraft when one person sneezes it goes all the way through the aircraft. That's me. I would not be, at this point, if they had another way of transportation suggesting they ride the subway. "

The vice president also implied that schools should be closed as the threat of swine flu increases.

"If you're out in the middle of a field and someone sneezes that's one thing. If you're in a closed aircraft or a closed container or closed car or closed classroom it's a different thing."

After the interview, co-host Meredith Vieira and NBC's Chuck Todd discussed Biden's statement, wondering if the vice president really had intended to caution the American public to stay off public transportation and airplanes. They noted his comments seemed to contradict public statements by other high-ranked White House officials.
UPDATE:
As
Mark Finkelstein
notes, ABC's Jake Tapper had White House Press Secretary Robert Gibbs gasping for air as the latter tried to "clarify" Biden's remarks:
As it often the case nowadays, it was questioning by ABC's Jake Tapper that put Gibbs on the spot.

JAKE TAPPER: My other question has to do with remarks Vice-President Biden made this morning on television. Representatives of the travel industry have accused the Vice-President of coming close to fear-mongering because of his comments. I'm wondering if you wanted to clarify, or correct or apologize for the remarks that he made.

ROBERT GIBBS: Well, what the Vice-President meant to say [at this point, some laughter in the press corps can be heard] is that again, many members have said in the last few days: if you feel sick, if you're exhibiting symptoms, flu-like symptoms: coughing, sneezing, runny nose, that you should take precautions, that you should limit your travel. And I just think he just: what he said and what he meant to say.

TAPPER: With all due respect, and I sympathize with you trying to explain the Vice-President's comments, but that's not even remotely close to what he said. He was asked about if a member of his family were to –

GIBBS: I understand what he said, and I'm telling you what he meant to say, which was that –

At this point, the loud and unrestrained laughter of the press corps can be heard.

GIBBS: — if someone is experiencing symptoms, you heard the President last night, if someone is feeling sick, exhibiting symptoms of being sick, then they should take all necessary precautions. Obviously if anybody was unduly alarmed for whatever reason, we would apologize for that and I hope that my remarks and remarks of people at the CDC and Secretary Napolitano have appropriately cleared up what he meant to say.
You can see a video of the exchange at the above link.