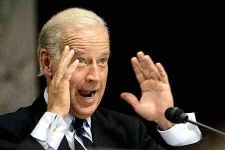 VP Joe, you really should get some help. You're starting to make
Walter Mitty
blush.
Fox News, April 9
:
Republican strategist Karl Rove called Vice President Biden a "liar" on Thursday, dramatically escalating a feud between Biden and aides to former President George W. Bush over Biden's claims to have rebuked Bush in private meetings.

"I hate to say this, but he's a serial exaggerator," Rove told FOX News. "If I was being unkind I would say liar. But it is a habit he ought to drop."

Rove added: "You should not exaggerate and lie like this when you are the Vice President of the United States."

Biden's office did not immediately respond to a request for comment, although Biden spokesman Jay Carney told Fox on Wednesday: "The vice president stands by his remarks."

Carney was referring to two controversial assertions by Biden, the latest coming Tuesday during an interview on CNN.

"I remember President Bush saying to me one time in the Oval Office," Biden began, "'Well, Joe,' he said, 'I'm a leader.' And I said: 'Mr. President, turn and around look behind you. No one is following.'"

The exchange is purely "fictional," said Rove, who was Bush's top political adviser in the White House.

"It didn't happen," Rove, a FOX News contributor and former Bush adviser, told Megyn Kelly in an interview taped for "On The Record." "It's his imagination; it's a made-up, fictional world.

"He ought to get out of it and get back to reality," Rove added. "He's making this up out of whole cloth."

Rove also said few presidents would spend a long time with anybody in the Oval Office, particularly "with all due respect, a blowhard like Joe Biden."

Rove's skepticism was echoed by a variety of other Bush aides, including former White House press secretary Ari Fleischer, chief of staff Andy Card and legislative liaison Candida Wolff.
That reminds me of the time that I stared Biden right in the eye and said, "Mr. Vice President, you are a liar!" He didn't even try to deny it.
Back to you, Joe.
---
UPDATE:
Scott Ott
can teach the VP a lesson or two on how to tell a whopper and make it funny:
Vice President Joe Biden, under fire from Karl Rove and other former Bush administration officials for bragging that he ridiculed George W. Bush face to face in the White House, today claimed he had also once defeated President Bush in arm wrestling.

"We were all alone in the Oval Office, as we often were," said Mr. Biden, then a U.S. Senator. "I had just dissed old Georgie with another of my famous presidential put-downs, when he challenged me to arm wrestle…the truth from my lips to God's ears, I swear. So we get down on our knees next to that little coffee table between the sofas. And I get the grip on him, you know, the old Biden clutch grip. It was over in seconds."

The vice president said he had promised that he would never publicize the humiliating incident, "but now that Bush says he owes the Obama administration his silence, I feel at liberty to tell the story…you know, since he's not going comment on it, and no one believes Karl Rove or Dick Cheney anyway."