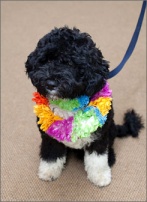 It's not just the right wing crazies that the president needs to worry about. Obama is still learning the cold, hard reality of the fact that his allies on the radical left are testing his every word and his every choice for ideological purity. Alas, he really stepped in it with his choice of a purebred puppy for his girls.
Reuters reports today
:
Animal rescuers voiced disappointment on Monday that President Barack Obama and his family chose a purebred dog from a breeder over rescuing an unwanted animal from a shelter.

Bo, the first family's new Portuguese Water Dog, is six-month-old puppy who was returned to his Texas breeder by a previous owner.

"I think all of us who work trying to place homeless animals had hoped that they would choose a shelter dog," said Steve Gruber, spokesman for the Mayor's Alliance for NYC's Animals in New York City.

"His choosing to go to a breeder is a disappointment. Choosing a shelter dog, that would have been a really powerful message to the American people," he said.

[...] "I am really disappointed," [rescue group adoption coordinator Antonia] Kwalick said, calling the Obamas' decision "elitist" for "wanting a pure breed and getting it from a breeder so that it is presumed perfect." "It would have been good for the girls to actually walk into a shelter to see how many animals need homes. They should have set a better example," she said.
The Obamas, of course, are free to choose whatever dog they like for any reason, but it would be heresy for them to say so out loud.
As far as I'm concerned, the Obamas made a good choice. Bo (pictured above) is a cute puppy.
(Photo credit: White House via Getty via
USA Today
)
UPDATE:
Aw, c'mon. I do my best to stand up for the Obamas, assuming that they had freely and unapologetically chosen a purebred despite the expectations of the left. As it turns out, this may have been a stunt meant to look more or less like a rescue.
As the AP reports
, the Obamas may deserve the criticism they received:
Barack Obama and his wife Michelle said during the presidential campaign that they had promised their two girls a dog after the election, and they repeatedly said they wanted it to be a rescued dog such as one from a shelter. Their search was complicated by daughter Malia's allergies, which would rule out many of the "mutts" the president has said he would prefer.
Enter Bo, a 6-month-old puppy given up by his first owner and matched with the Obamas through his breeders. Because he was given up by his first owner as a poor fit and is now with his second owners, the Obamas, but never spent time in a shelter or with a rescue group, Bo is a "quasi-rescue dog," says Wayne Pacelle, chief executive of The Humane Society of the United States.
Here's where the intrigue comes in:
—Bo's breeders happen to have bred Sen. Edward Kennedy's Portuguese water dogs. The Massachusetts Democrat, an Obama friend and political ally, also acquired a pup from Bo's litter. Bo's breeders are fans of Obama and named Bo's litter the Hope and Change litter.
—Bo's first owner lives in Washington.
—Bo was returned to the breeder in early March, fitting the spring timeline the Obamas had given for their dog adoption.
—Kennedy and his wife Victoria helped line Bo up with the Obamas. Before moving into the White House, the pup spent nearly a month with the Kennedys' dog trainer in Virginia.
Conspiracy buffs might speculate that Bo was meant for the Obamas all along. Was his adoption by the Obamas engineered to look like a rescue—or at least blur the line to head off criticism that the Obamas had picked a purebred from a breeder?
Sigh. I really should wait a couple of days into the news cycle before commenting on stories.