It looks like Sen. John McCain has provided President Obama with a soundbite to use in his 2012 reelection campaign.  AP, June 22:
Sen. John McCain says his opponent in last year's presidential campaign, Barack Obama, has "done well" in his first five months in the White House.

The Arizona Republican says that using a legislative scorecard to judge the presidency so far, Obama has achieved all his legislative goals.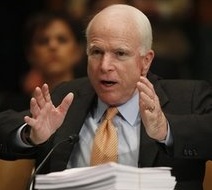 McCain appears to have based his assessment on the technical fact that Obama has accomplished his major legislative goals.  He does not appear to be endorsing those legislative accomplishments.
If that is the case, the senator would have "done well" to have chosen his words a little more carefully.   The Obama administration and its state-run media will downplay the context of his remark, and will play it as an endorsement of Obama's policies.
How could they pass up a gift like this?