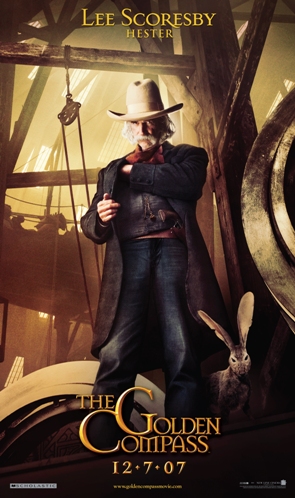 Actor Sam Elliot just
knows
who is to blame for the fact that the film adaptations of Philip Pullman's
His Dark Materials
trilogy will likely never go beyond the first part,
The Golden Compass
.
Catholic News Agency
reports:
Actor Sam Elliot has blamed the Catholic Church for stopping sequels from being made to the Golden Compass movie based on the first book of Philip Pullman's atheistic trilogy His Dark Materials. The film, starring Nicole Kidman, Daniel Craig and Eva Green, grossed more than $380 million worldwide after its Christmas 2007 release, but took in only $85 million in the U.S. According to the Internet Movie Database, the film had a budget of $180 million.
The 65-year-old Elliot, who played a Texan "aeronaut" in the film, charged that a Catholic-led campaign against the movie stopped its sequels from being made.
Of course, the film's horrible domestic box office take had nothing to do with the fact that the movie was based on the first novel of a trilogy that
goes out of its way
to deride the faith of Christians in general, and Catholics in particular.
The Golden Compass
is the most benign book in the trilogy, and the film adaptation was cleaned up even more. However, it would be hard to cleanse the remaining books sufficiently:
According to CinemaBlend.com, the first book of the His Dark Materials trilogy is the most mild "by far" and the movie had most of its anti-religion references stripped.
"That kind of sanitization would have been impossible when adapting later books," the movie website continued, noting that the series "quite literally" becomes a story about homosexual angels trying to kill God.
So, Mr. Elliot, tell us more about how the Catholics managed to scuttle what promised to be a beloved film series.
UPDATE:
So, is Sam Elliot a Democrat or a Republican?