A lot of people are curious about the political views of actor Sam Elliott. I know this because a
post from December 2009
brings many of these people to this blog. In fact, many of the top search engine queries bringing people to C-Pol are variations on this question.
That finally got me wondering as well: Is Sam Elliott a Democrat or a Republican?
Research shows
that political affiliation in Hollywood leans absurdly Democrat. But, Google searches on Sam Elliott himself turn up… nothing.
The fact of the matter is that Elliott seems to think that his political leanings are nobody's business but his own.
How refreshing. Would that more in Hollywood felt this way.
Despite my criticism of Mr. Elliott in that December 2009 post, I love his acting, and I think that just about any movie he's in (not counting the one cited in the blog post) is improved by his presence.
That's actually the point: actors should be famous for their acting, not their political activity.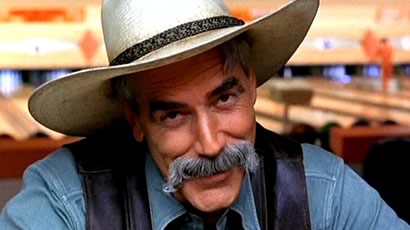 UPDATE, 23 October 2013
[Tim throws his hands up in surrender] You know, I consider myself to be a pretty good communicator, but judging from the comments on this post, and despite my repeated attempts to set the record straight, I don't think I've gotten my point across. This has frustrated me to the point that I've decided to revive the blog and try again in a new post.
You can read it here.