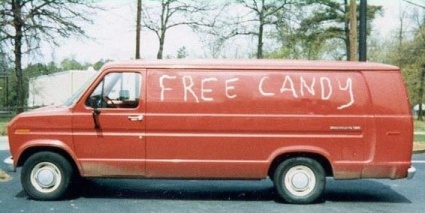 Do you enjoy reading the countless emails offering millions of dollars if only you would help the sender in some noble task? It seems that -- even after all these years -- there are still plenty of naifs out there who actually take the bait, because the flow of such "offers" shows no sign of slowing.
I can think of at least three reasons why I
enjoy reading them
:
I am amused by their imprecise command of the English language, even though they often purport to come from some highly-educated native of an English-speaking country.
I am intrigued by the social-engineering design of the message -- i.e. what technique they think will persuade the reader to reply. This usually involves an appeal to compassion, adventure, or simple greed.
I note how the average scammer has a (justifiably) low opinion of the average bait-taker's knowledge of how the internet works.

You can see all three points at play in the following message that I received this morning:
From: Mrs Russell Haswell
Reply-to: mrsrhaswell@8u8.com
Date: Mon, 16 Mar 2009 09:18:46 +0100

Here writes Mrs. Russell Haswell, suffering from cancerous ailment of the brain. I was married to Dr. Collen Haswell, an English man who is now dead. My husband was into private practice all his life before his death. Our life together as man and wife lasted for three decades without a child.
My husband died after a protracted illness, before his death, we had an agreement and arragement to uplift the down-trodden and the less-privileged individuals as he had passion for persons who can not help themselves due to physical disability or financial predicament. I can adduce this to the fact that he needed a Child from this relationship, which never came.

When my late husband was alive he deposited the sum of £6,000,000.00 (Six Million Pounds sterling) which were derived from his vast estates and investment in capital market with his bank here in UK. Presently, this money is still with the designated Bank, while my Doctor told me recently that I have limited days to live due to the cancerous problems I am suffering from since it affects the delicate part of my brain. With this hard reality that has befallen my family, and me I have decided to donate this fund to you and want you to use this gift which comes from my husbands effort to fund the upkeep of widows, widowers, orphans, destitute, the down-trodden, physically challenged children, barren-women and persons who prove to be genuinely handicapped financially and i do not discriminate any religion for we all look up to one God.

It is often said that blessed is the hand that giveth. I took this decision because I do not have any child that will inherit this money and my husband relatives are bourgeois and very wealthy persons and I do not want my husband's hard earned money to be misused or invested into ill perceived ventures. I do not want a situation where this money will be used in an ungodly manner, hence the reason for taking this bold decision.

As soon as I receive your reply I shall give you the contact details of my Lawyer who will guide you through the clearing process from the bank here in the UK. Please assure me that you will act just as I have stated herein.

If you are interested, Please send your response to this email: mrsrhaswell@8u8.com

Endeavor to send your reply to this email: mrsrhaswell@8u8.com

Respectfully,
Mrs Russell Haswell
Benefactor.
Note that Mrs. Russell Haswell claims to be in the U.K., and then note the rampant spelling and grammar errors -- including the occasional awkward or clipped English. Hey, wait... don't the British spell it "endeavour"? "Endeavor" is the American English spelling. And... what's up with the random capitalization? And... since when is Russell a woman's name? And... And... And...
The message quite obviously uses compassion as its bait.
To me, the reply email address is always the dead giveaway. Many scams use throwaway addresses from Yahoo, Hotmail or the like, even though the sender is supposed to be (for example) a fantastically rich businessman. Often, the return address is for a Yahoo domain located in a country thousands of miles away from the sender's purported location. That kind is easy.
This one is a little more tricky, but it's not difficult to see through the veil. The message had a From address of info@charity.com (a domain that is currently
not in use
for any charity-related purpose), but the message itself (and the Reply-to in the message header) refers to mrsrhaswell@8u8.com. If you simply hit Reply on the message, the reply will go to this address.
It's not Yahoo or Hotmail, so maybe it's real. I've never heard of 8u8.com, but I'm not from Britain, and maybe that's a legitimate company there. How can I be sure? By doing a domain search.
The first stop should be a "WhoIs" domain search at a site like
Internic
. We enter in 8u8.com, and here's what we get back:
Whois Server Version 2.0

Domain names in the .com and .net domains can now be registered
with many different competing registrars. Go to http://www.internic.net
for detailed information.

Domain Name: 8U8.COM
Registrar: ONLINENIC, INC.
Whois Server: whois.onlinenic.com
Referral URL: http://www.OnlineNIC.com
Name Server: NS1.DNS-DIY.COM
Name Server: NS2.DNS-DIY.COM
Status: clientDeleteProhibited
Status: clientTransferProhibited
Updated Date: 19-jul-2008
Creation Date: 15-jan-2000
Expiration Date: 15-jan-2010

Okay, we don't have our answer yet, but we've been told exacty where to look. Internic says that the domain is officially registered at a place called OnlineNIC. We go to their
WhoIs page
and repeat our search. Here's what we get:
Registrant :
Tong Li litie@cnsnn.com +86.13902936686
Tong Li
A801,Block A,WorldTradePlaza,Fuhong Rd,Futian Shenzhen
Shenzhen guangdong CN 518026
Ummmm...... Shenzhen, CHINA? Mrs. Russell Haswell, is there something you aren't telling us?
UPDATE
: Simply posting this note has revealed another interesting data point: how widespread the scam message's distribution was. Looking at the visitor log for this site shows that many have arrived via a Google search on "Mrs. Russell Haswell". These visitors hail from the U.S., Britain, Ireland, Slovakia, Poland, Sweden, Spain, Kuwait, Vietnam, Australia and South Africa. I'm actually quite crestfallen, Mrs. Haswell. I thought we had something special.
UPDATE, 3 MARCH 2011
: As the first commenter notes, Mrs. Haswell apparently experienced a miraculous recovery in 2009, but she seems to have suffered a relapse. I'm getting a lot of hits on this post again from people searching for information on "Mrs. Russell Haswell" or "Dr. Collen Haswell". Thanks for stopping by!